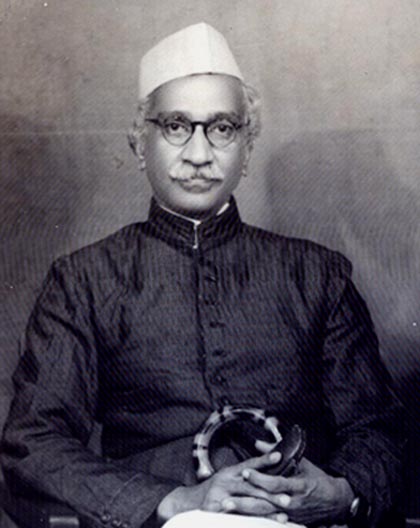 The following text was extracted from the Foreword by Prof. P.S. Sundaram for "Arumbina", one of several books by Prof. KNS. Dr. Sundaram was a professor of English, scholar and an admirer of KNS.
K. N. Sundaresan, was born on 2nd December, 1899 at Katuputhur in the Trichy District (then Tinnavely); was a student of the Setupati High School, Madurai and St. Joseph's College, Trichinopoly; graduated with Honors in Mathematics; and joined Khallikote College, Berhampur, Orissa in 1921 to teach Mathematics. He did this for 44 years until he retired in 1965. He died eighteen years later on the 17th March 1983 at Roanoke, Texas in the United States where he had gone to live with one of his sons.
Though he was an outstandingly good teacher of Mathematics, Sundaresan's earliest and only love was Poetry. To a question set in his Intermediate examination: "What would you like to be in life?" he had answered, "A Poet". But when he came out of the examination hall he was too shy to tell his fellow-students that this was the profession he had opted for in his answer. He told them instead that he had put down as "teaching" as his choice. He used to tell his friends later on with a chuckle how God had made it possible for him to be both a teacher and a poet.
Sundaresan's early efforts to write poetry in English procured for him a piece of advice from C. F. Andrews, "Your poems are so Tagorean: but why don't you write in your own language, Tamil?" So he began reading Tamil journals and ancient Tamil poetry like the Tevaaram in annotated editions.
His first efforts even in Tamil were imitative…festival plays like Tagore's "Harvest Festival"; plays on the Tamil Nayanmars like Laurence Housman's on St. Francis; and one act plays popularized by Harrap's. He tried his hand at parodies, limericks and even crossword puzzles in Tamil. He was a voracious reader and felt that whatever others had done in English he too could and should do in Tamil.
Sundaresan was a handsome man not belying his name with, what was unusual those days with Tamil Brahmins, a fine and well-cultivated moustache. Like Wordsworth he had decided to be a poet, though the exigencies of his life did not permit him to be solely a poet. His was an independent mind, some of his earlier effusions being nationalistic like Bharati's. He was never afraid of defying use and wont. His love of ancient Tamil led him to name his children after old Tamil forms, like "Naranan" instead of "Narayanan" and "Selvi" instead of 'Lakshmi". At the same time he was also ultra-modern, calling his eldest daughter not "Bharati" but "India", the name by which the political entity which the British for the first time created was known to the mapmakers of the world. Curiously a grandchild of Lord Mountbatten, Pamela's daughter, bears that name. Our own people were so unaccustomed to it as a personal name that India, Sundaresan's gifted daughter, has been nearly always called by careless people "Indira".
Sundaresan, so sensitive to the beauties of Nature and whatever is good in poetry in any language, early developed a hardness of hearing which with increasing years got worse and worse. This drove him more and more into his own self. Like Wordsworth again, he had a world around him which was his. The devoted members of his family knew how out of the way he was and were full of admiration for him. One may doubt however whether the give-and-take of discussion among his peers would not have resulted in rubbing off some of the wanton angularities of his poetry, and made it more acceptable not only to the common reader but also the Tamil literary world. "I have made thousands of mistakes deliberately," says he, introducing his ninth published work. "Let the reader know. The only question is 'Are they pleasant to the ear or not?'"
To one pair of ears, viz. mine, neither the deliberate avoidance of alliteration as being of no great account in Tamil poetry, nor the use of end rhymes and that too in excess, is a pleasure. But I would leave this to be decided by the readers.
What outweighs these is the great capacity to recollect emotion in tranquility and to communicate all of it unimpaired to the reader, as in the exquisite Tulaasnaanapalan. Sundaresan believes, again like Wordsworth that there is no subject specially marked off as fit for poetry. Any little incident…whether sitting carelessly in the darkness of a cinema hall on someone's lap instead of an empty chair, or a two-year old flinging a doll away, or a one-year old embarrassing its mother by pulling at her sari…can become the subject matter of a poem. A crow gobbling a pindam up selfishly, a servant-maid enjoying her washing-up are all grist to his mill.
Sundaresan also, like Wordsworth, has no use for poetic diction. Whatever words he feels like using he uses…not only borrowings like "petticoat" and "thermos", but also words, which will not pass muster with the purists, like kundu for "sit" of which he seems to be enormously fond of.
Like every poet worth the name, Sundaresan's preoccupation is words, words, and words. Vizhuppu, attahasam, vinnappam, kizhavan provide him opportunities to take a fresh look at things. His mathematical training suggests a new way of making ancient Tamil poetry easier to understand by the use of single, double and square brackets. The form, in which he prints, his own venbas, so as to draw attention to the rhymes is novel.
I came to know him somewhat late in his life. Common interests were Tamil etymology and Bharati. There was no doubting the fact that here was an authentic poet, original and sensitive, with the heart of a child, and a fanatical dedication to his craft. He would certainly like to have been appreciated more for his uniqueness but if the appreciation took some time coming, never doubted that it would come. Meanwhile he carried on writing his poetry in the watches of the night from 2 to 6am. He was active while the rest of the world rested. In a sense, and that literally, his dreams were not daydreams but night dreams and dreamt while wide-awake. That is why they took concrete shape in words, lines and stanzas. Men like these have a confidence and an inner strength, which nothing can shake. They are the salt of the earth.
I wish and am sure that the pleasure these poems gave me will be yours also.
Madras, 30th June, 1984.
P. S. Sundaram